The NSS unit of Srinivas College of Pharmacy in association with Indian Pharmaceutical Association, Dakshina Kannada District Local Branch, Mangalore organized Swachh Bharath Abhiyan at Valachil Campus on 17.11.2018. More than 100 students participated in the cleaning of the campus by making use of plastic gloves and garbage bags. Mr. Shripathy D, NSS coordinator, Srinivas […]
November 30, 2018 Posted By Srinivasgroup
---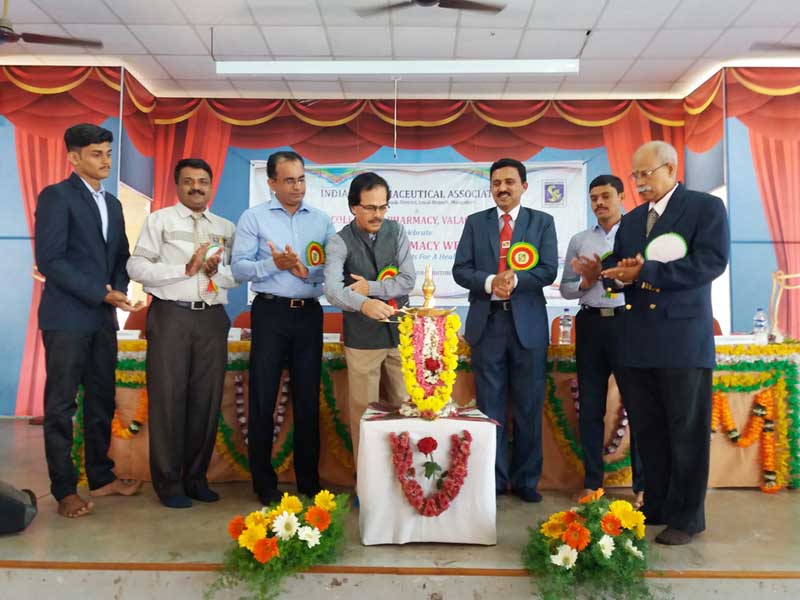 Indian Pharmaceutical Association, Dakshina Kannada District, Local Branch, Mangalore in association with Srinivas College of Pharmacy, Valachil, observed National Pharmacy Week 2018(10.11.2018-16.11.2018). Sri. Premanath Shenoy, President, Indian Pharmaceutical Association, Karnataka State branch, Bangalore was the chief guest of the inaugural function on 10.11.2018. He has advised the Pharmacy students the need to improve the awareness […]
November 10, 2018 Posted By Srinivasgroup
---
Year Number of students placed Name of the employer with contact details Package received Program graduated from 2013-14 07 Mr.Prbhu E., HR Department, Apollo Hospitals Enterprise Ltd., Unit: Apollo Pharmacy, Singasandra, Hosur Road, Bangalore 560068 0.96L B.Pharm, 2014-15 06 Mr. Srikanth, GM, HR, Abbott Healthcare Pvt. Ltd., Mulund West, Mumbai, 400080 Mobile:9167256464 2.40 L B.Pharm, […]
May 07, 2018 Posted By Srinivasgroup
---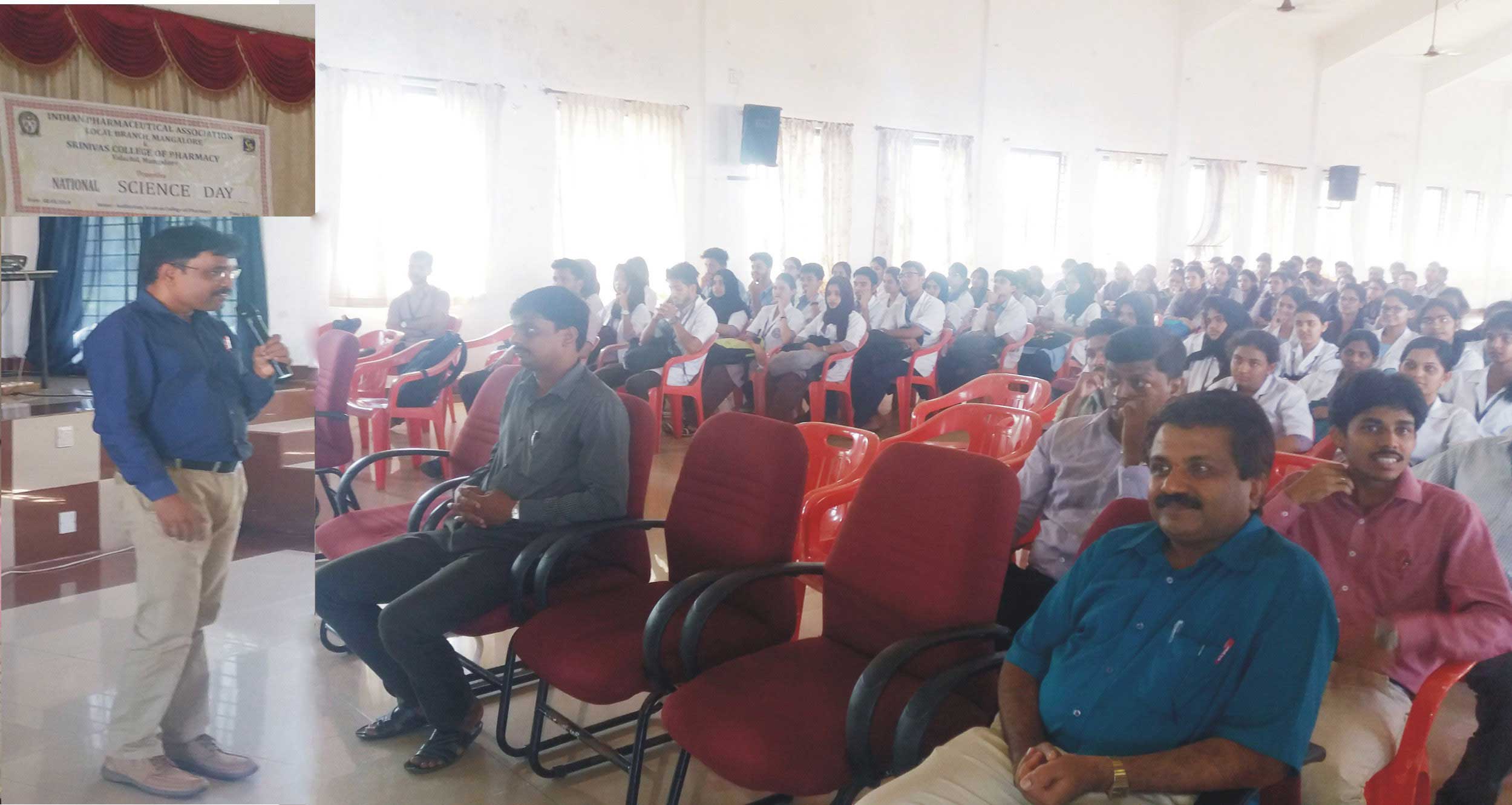 Srinivas College of Pharmacy, Valachil, Mangalore in Association with Indian Pharmaceutical Association, D.K District Local Branch, Mangalore organised National Science Day on 28th February 2018. Prof. Lokesh, Srinivas Institute of Technology, Mangalore gave a talk on "Neuro Science and Network.
March 26, 2018 Posted By Srinivasgroup
---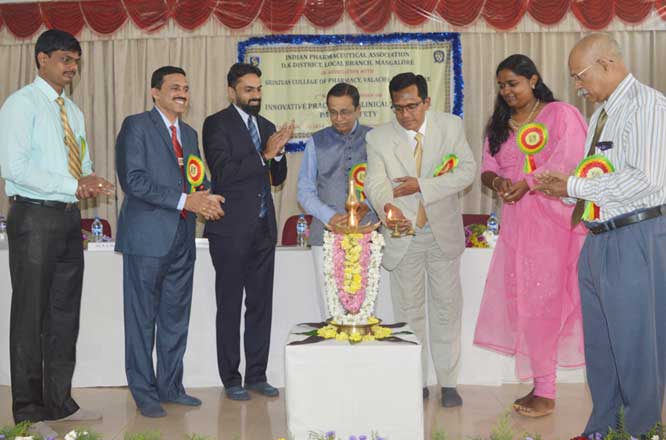 INDIAN PHARMACEUTICAL ASSOCIATION, MANGALORE IN ASSOCIATION WITH SRINIVAS COLLEGE OF PHARMACY, MANGALORE ORGANISED 2nd NATIONAL CONFERENCE ON "INNOVATIVE PRACTICES IN CLINICAL TRAINING & PATIENT SAFETY" ON 20TH & 21ST FEBRUARY 2018. "With sound knowledge, confidence and opportunity you can face the competitive world" said by Dr. Sriram, Prof. & HOD, Dept. of Pharmacy Practice, Sri […]
March 26, 2018 Posted By Srinivasgroup
---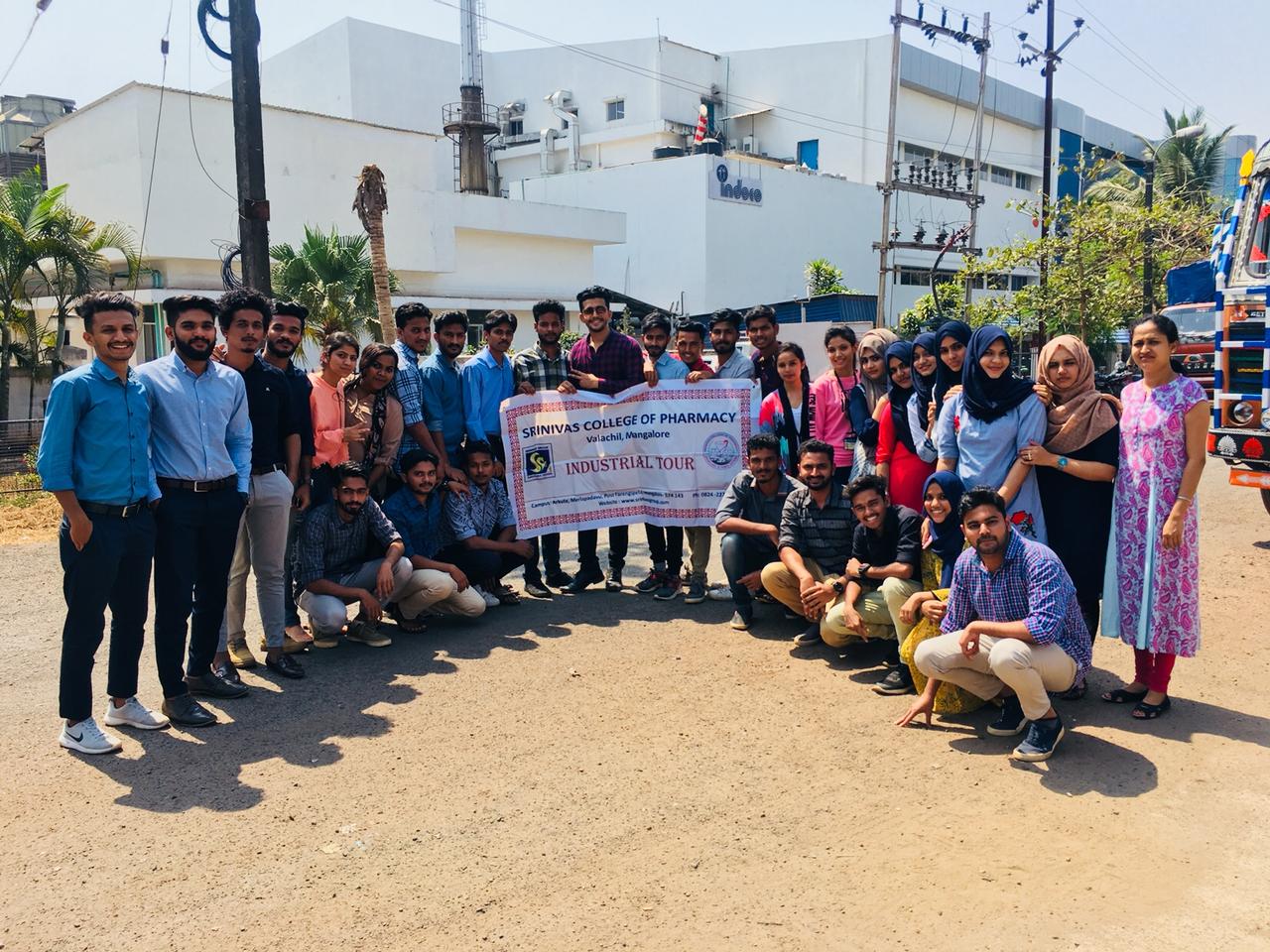 16.02.2018 & 17.02.2018: IV B.Pharm students visited to Sun Pharma Ltd., Lupin Ltd., Verna Industrial Estate, Verna, Goa to observe the manufacturing process.
March 26, 2018 Posted By Srinivasgroup
---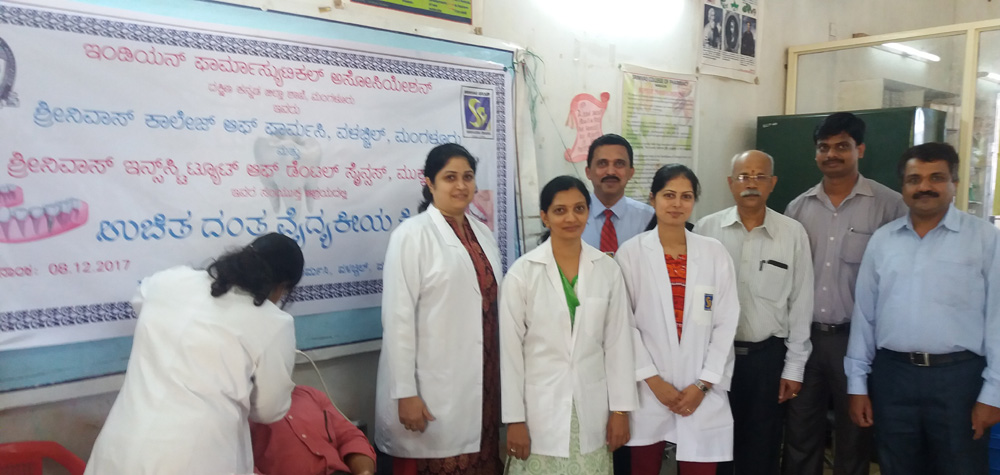 As a part of National Pharmacy week 2017, Indian Pharmaceutical Association, Dakshina Kannada District, Local Branch, Mangalore in Association with Srinivas College of Pharmacy, Valachil, Mangalore & Srinivas Institute of Dental Sciences, Mukka, Surathkal organised Free Dental Camp on 8th December 2017 at Srinivas College of Pharmacy, Valachil, Mangalore. Dr. Reshma Pai, Professor, Department of […]
March 26, 2018 Posted By Srinivasgroup
---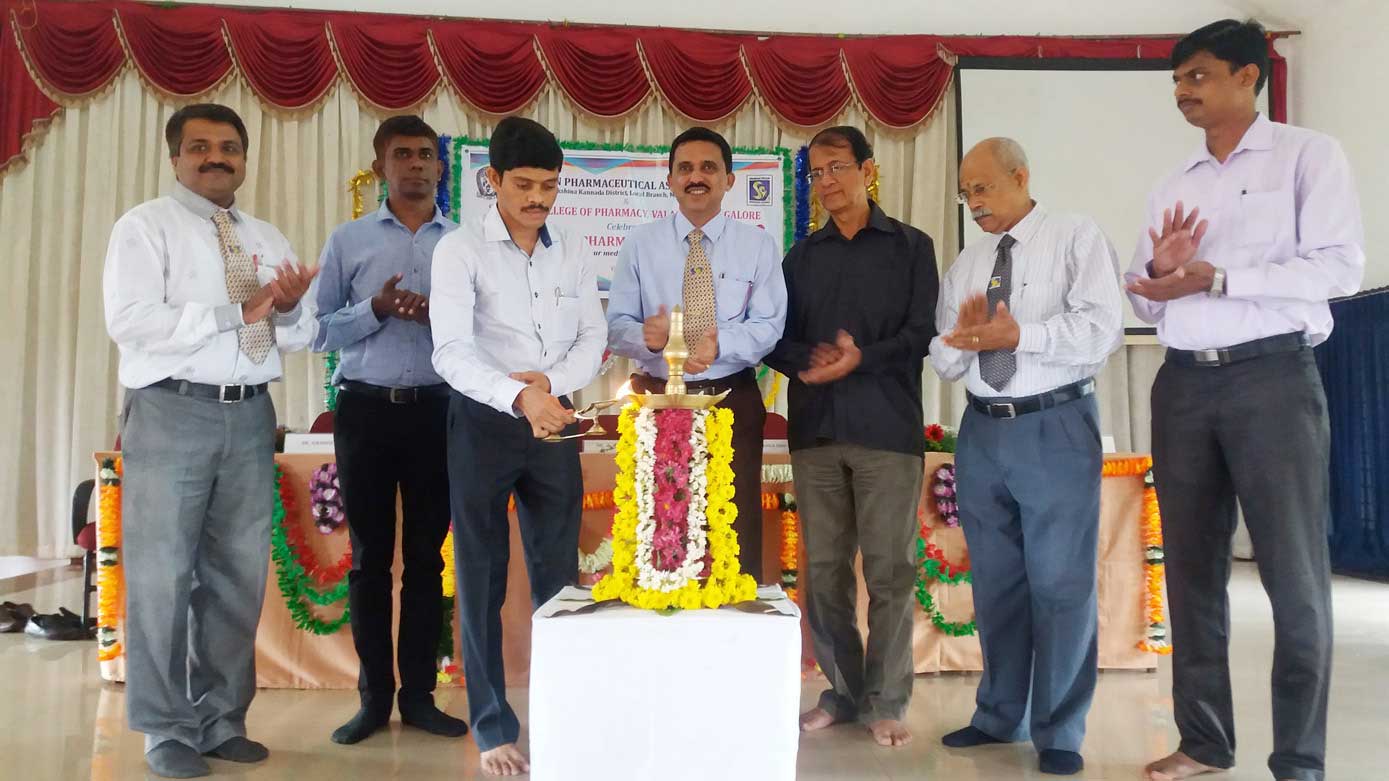 Indian Pharmaceutical Association, Dakshina Kannada District, Local Branch, Mangalore in association with Srinivas College of Pharmacy, Valachil, observed National Pharmacy Week 2017(06.12.2017- 09.12.2017). Sri. Shankar Naik, Asst. Drugs Controller, Mangalore was the chief guest of the inaugural function on 06.12.2017. He has advised the Pharmacy students to develop good habits and discharge their responsibilities to […]
March 26, 2018 Posted By Srinivasgroup
---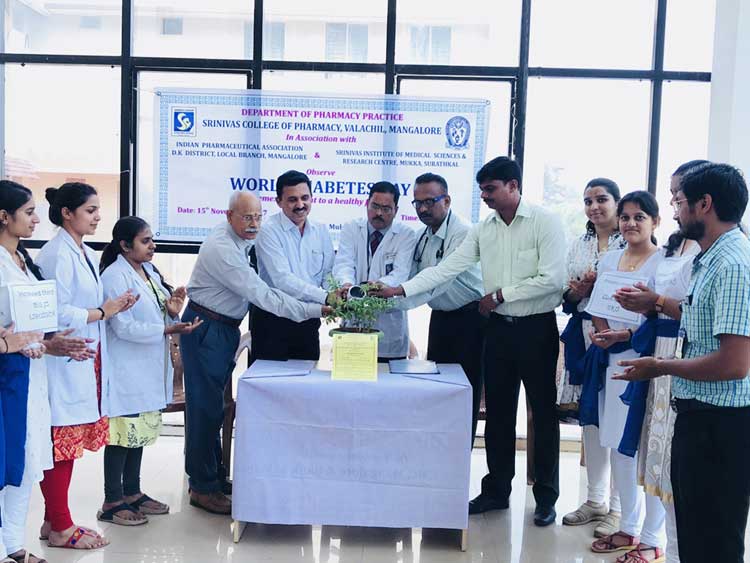 Department of Pharmacy practice of Srinivas College of Pharmacy, Mangalore in association with Indian Pharmaceutical Association, D.K District, Mangalore and Srinivas Institute of Medical Sciences, Mukka, Surathkal organised World Diabetes day on 15th November 2017 at Srinivas Hospital, Mukka, Surathkal. Chief guest, Dr. Udaykumar, Dean, Srinivas Institute of Medical Sciences, Mukka, Surathkal and he gave […]
March 26, 2018 Posted By Srinivasgroup
---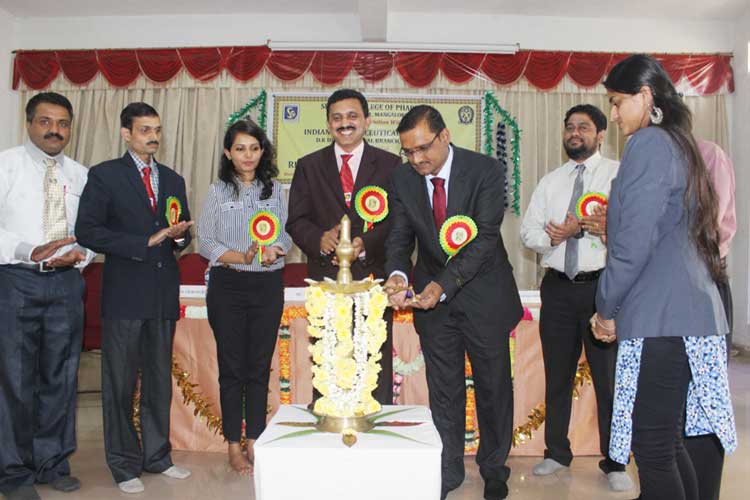 INDIAN PHARMACEUTICAL ASSOCIATION, MANGALORE IN ASSOCIATION WITH SRINIVAS COLLEGE OF PHARMACY, MANGALORE ORGANISED NATIONAL SEMINAR ON "RECENT TRENDS IN REGULATORY AFFAIRS" ON 11th NOVEMBER 2017. "Regulatory affairs play vital role in pharmaceutical marketing" mentioned Dr. Sangamesh Puranik, Head- Regulatory Affairs, Anthem Bio Sciences Pvt. Ltd. Bangalore while delivering the keynote address in the inaugural function […]
March 26, 2018 Posted By Srinivasgroup
---