by Aneesh Shabu and Anju Raju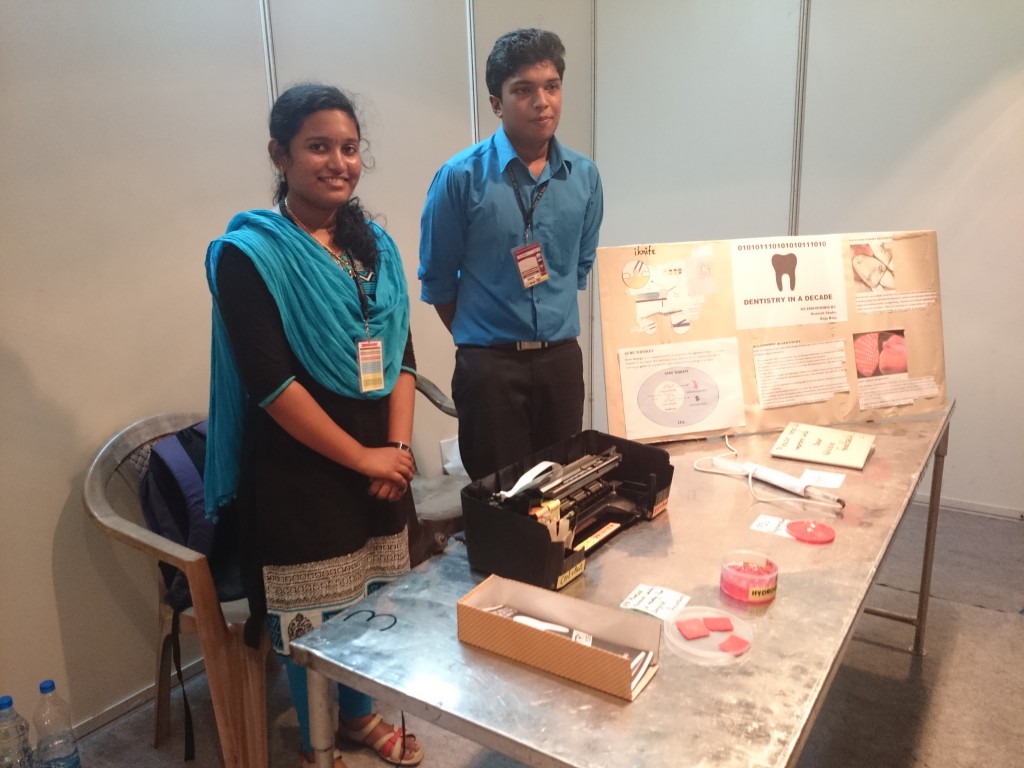 The exhibition was as the name suggests, about Dentistry in the next 10 years.
Efforts were put to include future innovations from almost all the departments .The main focus of the exhibition was on 3D bio printing, Pdl regeneration and iknife. Other minor predictions were Smart brackets, Anxiety reducing Photo therapy, holography in dentistry .etc
The selection of the innovations was based on the challenges faced by each specialty due to the present day technological and scientific limitations. The following is a brief elaboration on the various innovations.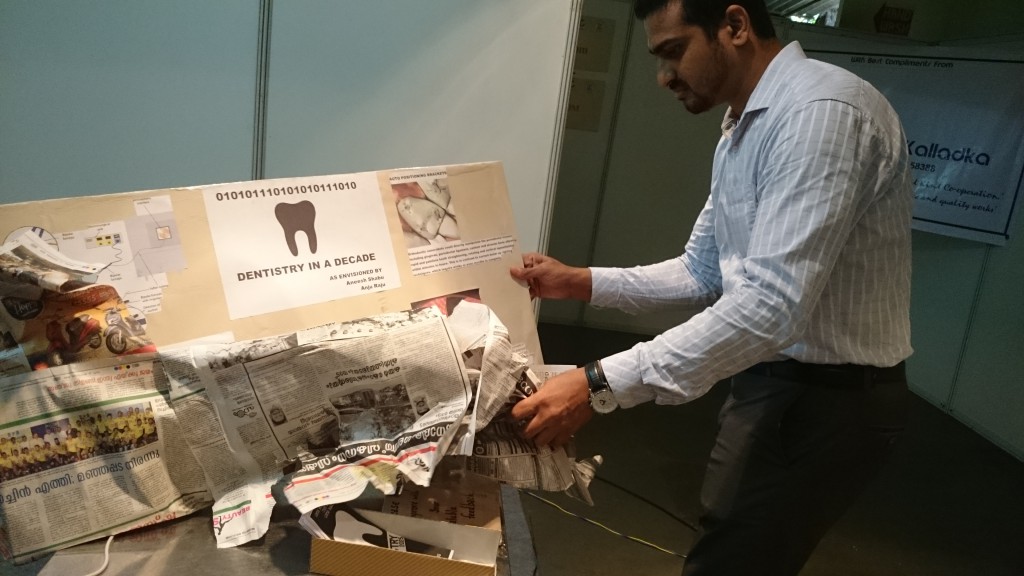 BIO PRINTING (Periodontics, Oral and maxillofacial surgery, Oral Pathology, Prosthodontics, Orthodontics)
Bio printing is the process of 3D printing soft/hard tissues using modified tridimensional printers to accommodate cellular and scaffold components in the cartridges.
3D printing allows for the layer by layer construction of a particular organ structure to form a cell scaffold. This can be followed by the process of cell seeding, in which cells of interest are pipetted directly in to the scaffold structure.
In dentistry, the patient's own stem cells are amplified using tissue culturing and used for cell seeding. This has wide spread application in various branches of dentistry like Periodontics, Oral and maxillofacial surgery, Oral Pathology, Prosthodontics, Orthodontics etc.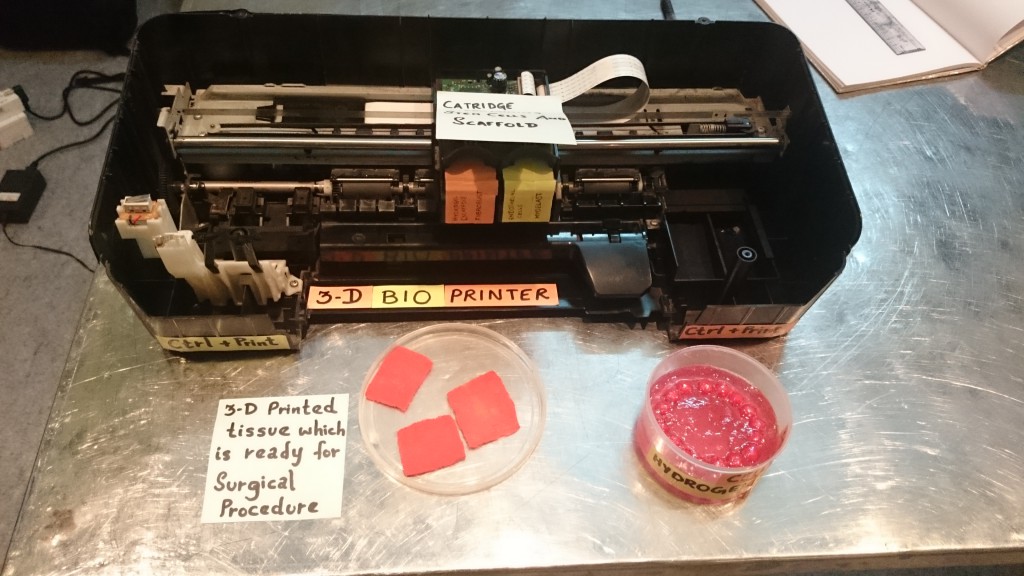 ONKO KNIFE/ IKNIFE (Oral Pathology)
Onkoknife, iKnife, or intelligent scalpel is a surgical knife, which tests tissue as it contacts it during an operation, and immediately gives information as to whether that tissue contains cancer cells. During a surgery this information is given continuously to the surgeon, significantly accelerating biological tissue analysis and enabling removal of virtually all cancer cells.
The iknife shortens the duration of a cancer surgery by eliminating long waits for results from the histological pathologist who now determines the boundary between cancerous and healthy tissue
PDL Regeneration (Periodontology)
Many pathologic conditions as well as traumatic incidences causing loss of teeth are due to loss of periodontal ligament. Regeneration of periodontal ligament can be promoted by stromal cell derived factor-1(SDF-1) and bone morphogenic protein-7 (BMP-7) induced cell homing in delayed replantation of avulsed teeth.
This has been successful in canine experiments, in the not-so-distant future, successful human trials are also expected.
SMART BRACKETS (Orthodontics)
Brackets fitted with tactile sensors, pH indicators and other equipments for evaluating various values of the patient's oral cavity all linked to an inbuilt microprocessor which sends these information to the dentist even if he is miles away may not be of the distant future but a common technology in the coming decade.
ANXIETY REDUCING PHOTO THERAPY (Pedodontics)
One could say the major challenge in Pedodontics be the difficulty in managing hysteria in children or restlessness in mentally challenged patients. This can be reduced by using harmless form of light therapy designed to alter brain activity, thereby inducing a state of relaxation which enables the dentist to treat the patient without any distractions or difficulties.
HOLOGRAPHIC DISPLAYS IN DENTISTRY (Oral medicine and radiology)
All the buzz about the CBCT aside, the lame truth is that, though the scanning is done in 3D, it is displayed in 2D scans which kinda makes its third dimension obsolete. That's where holography, the 3Dimensional projection technique comes into play
This not only helps in patient education but also increases visibility during complicated surgeries. There is no need for messy chemical processing or unwanted radiation exposure.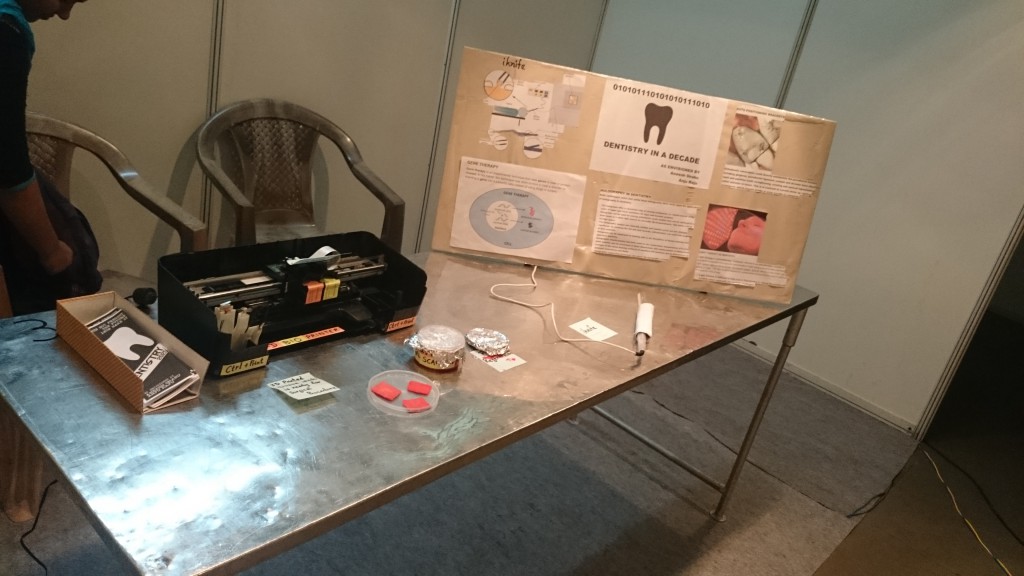 CONCLUSION
It can be safely assumed that the exhibiton has served its purpose, which was to enlighten the mass audience on the various exciting and awe inspiring developments in dentistry which is bound to revolutionize dentistry as we know it now.
ACKNOWLEDGEMENTS
Department of Periodontics
(Dr. Sharath sir has been the spine of our entire endeavour
Dr. Deepa ma'am had given us tips and ideas which made our exhibition possible
Dr. Shihan sir is the soul of our work, he inspired us and made us do it)
Dr. Hemanth sir blew our fears away and sky rocketed our confidence
All the other professors and our beloved Dean whose presence and motivation drove us to where we dreamed of being.