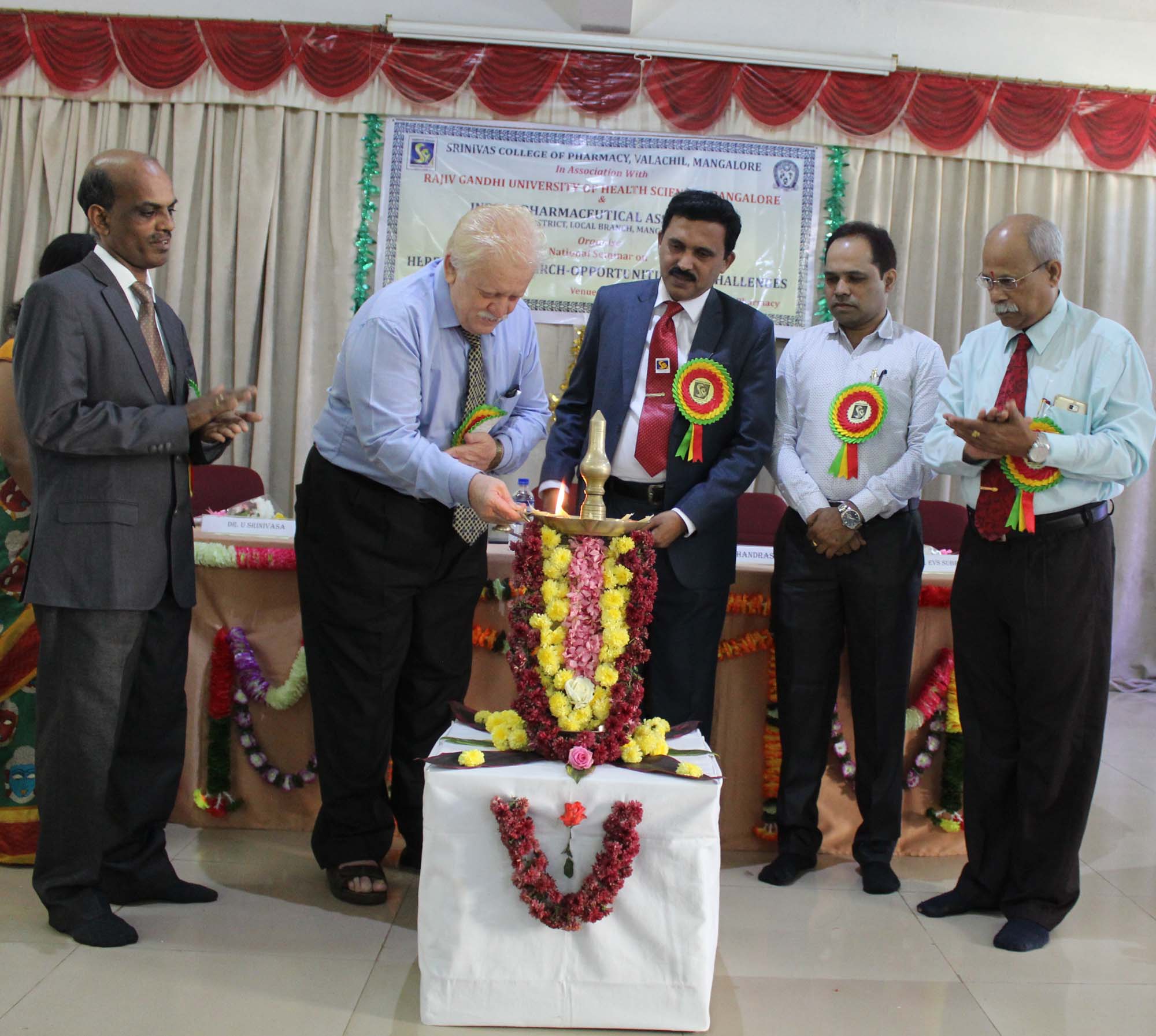 SRINIVAS COLLEGE OF PHARMACY, MANGALORE ORGANISED NATIONAL SEMINAR ON "HERBAL DRUG RESEARCH -OPPORTUNITIES AND CHALLENGES"
"For a successful researcher; firm ambition, sincerity and honesty is must" by Dr. Arun B. Joshi, Professor & Head, Dept. of Pharmacognosy, Goa College of Pharmacy, Panaji, Goa addressed the delegates in the inaugural function and lighted the lamp at the National Seminar on Herbal Drug Research -Opportunities And Challenges organised by Srinivas College of Pharmacy Mangalore in association with Rajiv Gandhi University of Health Sciences, Bangalore and Indian Pharmaceutical Association, D.K District Local Branch, Mangalore on 9th & 10th December 2019 and a gave a talk on "Identification of Phytomedicine by spectral studies".
Continuous effort and hard work is required to achieve success in herbal research said by Dr. A.R.Shabaraya Principal and Director, Srinivas College of Pharmacy and President, IPA, D.K. District Local Branch in his presidential remarks.
Dr. Chandrashekar R, Dept. of Pharmacology, A.J Institute of Medical Sciences & Research centre, Mangalore called upon the young researchers to take up challenges in herbal research as an opportunity in health care system and gave a talk on "Development of Ayurvedic dosage for the diseases Asthama, Cancer, Paralysis & Hypertension".
Dr. Ravi Rao S, Professor & Vice Principal, Alvas Ayurveda Medical College, Moodbidri gave a talk on "Role of Ethonomedicine in Herbal Drug Research".
Dr. U Srinivasa, Professor, Srinivas College of Pharmacy welcomed and introduced the guests. Ms. Charutha Reji & Ms. Keerthana anchored the programme. Dr. Krishnananda Kamath K, Associate Professor proposed vote of thanks. 200 delegates from Pharmacy colleges of Karnataka and Kerala attended the programme.
December 10, 2019 Posted By Srinivasgroup
---
Post your comments
Leave a Reply
Your email address will not be published.Required fields are marked *