Srinivas Institute of Nursing Sciences takes pride in preparing graduates to meet the challenges of an ever-changing world. This preparation is particularly valuable to nurses. With rapid changes in health care, nurses need a variety of skills to care for individuals, families, groups, and communities. Since our society is very dynamic, nurses must also work in diverse settings. Current worldwide changes in health care delivery provide a variety of employment opportunities for SIONS nursing graduates. Due to expanding roles and increasing professional responsibilities, baccalaureate nurses / B.Sc. (N) are commanding higher salaries compared with other professions. We have a nursing care shortage of a magnitude unseen in decades. It is affecting all health care settings – hospitals, nursing homes, home health and outpatient facilities. An estimated 126,000 registered nurses are needed to fill current full time vacancies in just the hospital and nursing home sectors alone! By 2020, the Bureau of Labor Statistics (USA) estimates 400,000 nurses will be needed to meet the demand in all health care facilities. Risks to national health from the nursing shortage are highly acute because nursing is not only the nation's largest health profession but also comprises the largest percentage of hospital labor force and is the primary provider of long term care.
In this view, after completion of the nursing course one can work as clinical specialist, advanced practitioners, educationist, administrators, consultants, and research assistants in the Country and abroad.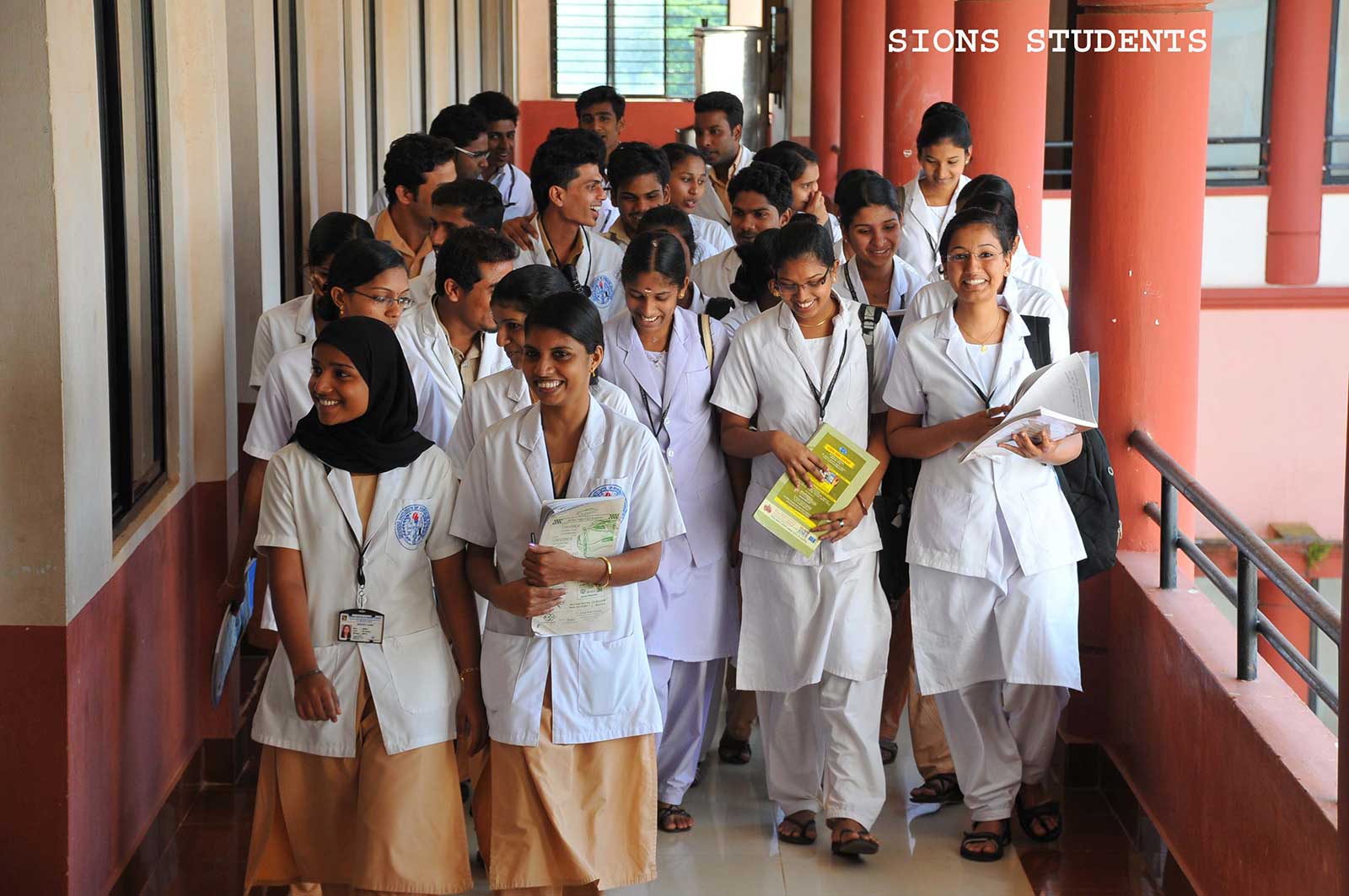 SRINIVAS INSTITUTE OF NURSING SCIENCES
Offers the following Courses. The Institute is affiliated to Rajiv Gandhi University of Health Sciences, Bangalore. All the courses are recognized by Government of Karnataka, Karnataka Nursing Council and Indian Nursing Council.
BASIC B.Sc.(N)
Annual Intake: 100
Medium of Instruction: English
Duration: 4Years
P.B.B.Sc.(N)
Annual Intake: 40
Medium of Instruction: English
Duration: 2Years
M.Sc.(N)
Annual Intake:
Medical Surgical Nursing – 05
OBG Nursing – 05
Paediatric Nursing – 05
Community Health Nursing – 05
Psychiatric Nursing – 04
Medium of Instruction: English
Course Duration: 2Years
BASIC B.Sc.(N)
Pass in 10+2 or equivalent examination
45% marks in PCB (physics, chemistry, Biology) – Higher Secondary Examination/Vocational Higher Secondary Examination
40% marks for reserved category in PCB
Age – 17 years as on December 31 of the year of admission
Admission of NRIs and foreign nationals is based on the qualifying marks in their core subjects
ORIGINAL DOCUMENTS WITH PHOTO COPIES REQUIRED FOR BASIC B.Sc.(N)
10th std. marks card (for proof of date of birth)
10 + 2 marks card/PUC marks card
Transfer Certificate from the Institution last attended
Migration certificate
Identification proof (Voter ID/PAN Card/ Passport/Aadhar Card) – (Xerox only)
Recent Passport size photo – 5 Nos.
Birth Certificate (Only for North India, SAARC & NRI students)
Citizenship Certificate (Only for SAARC & NRI students)
Passport (Only for SAARC & NRI students)
P.B.B.Sc.(N)
Pass in General Nursing and Midwifery (GNM)
Age Limit is 48 years on December 31st of the year of Admission
Admission is under Merit basis in the qualifying examination.
Be a registered nurse in Karnataka State Nursing Council.
ORIGINAL DOCUMENTS WITH PHOTO COPIES REQUIRED FOR P.B.B.Sc.(N)
10th std. marks card (for proof of date of birth)
10 + 2 marks card/ PUC marks card
Certificate and mark list of GNM
Registration certificates of GNM – Karnataka State Nursing Council
Transfer Certificate from the Institution last attended
Migration Certificates
Selected non Karnataka candidates should obtain Eligibility Certificates from the RGUHS
Recent Passport Size Photo – 5
Identification proof (Voter ID/PAN Card/ Passport/Aadhar Card) – (Xerox Only)
ELIGIBILITY CRITERIA: M.Sc.(N)
Bachelors degree in Nursing B. Sc (N) or P.B.B.Sc Nursing
Professional Experience certificate for ONE COMPLETE YEAR after obtaining B.Sc .Nursing.
For P.B.B.Sc(N) no experience is required
ORIGINAL DOCUMENTS WITH PHOTO COPIES REQUIRED FOR M.Sc.(N)
10th std. marks card (for proof of date of birth)
10 + 2 marks card/ PUC marks card
Sc./P.B.B.Sc. Degree Certificate
Registration Certificates of B.Sc /P.B.B.Sc Nursing – Karnataka State Nursing Council
Transfer Certificate from the Institution last attended
Experience Certificate only from B.Sc (N) candidates.
Migration Certificate
Selected non Karnataka candidates should obtain Eligibility certificates from the RGUHS
Recent Passport Size Photo – 5
Identification proof (Voter ID/PAN Card/ Passport/Aadhar Card) – (Xerox Only)
AFFILIATION DETAILS
Government of Karnataka, Bangalore
Karnataka State Nursing Council, Bangalore
Rajiv Gandhi University of Health Sciences, Karnataka.
Indian Nursing Council. New Delhi